Soroptimist International Of Hamilton-Burlington
Fundraisers
"Improving The Lives Of Women And Girls In Local Communities And Throughout The World."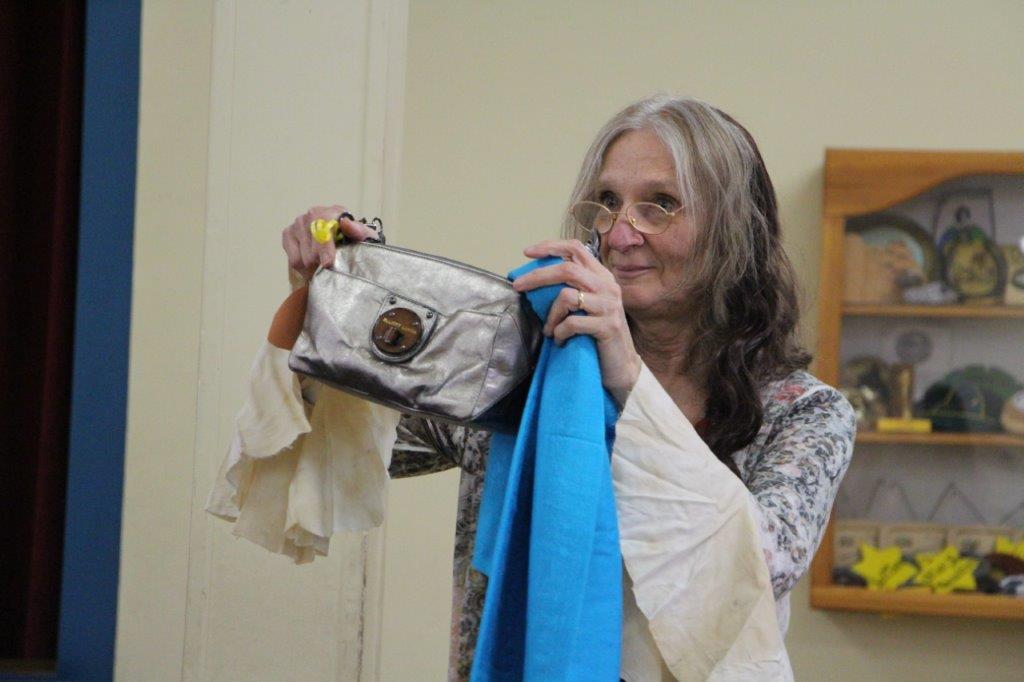 Past president Theresa Randles showcases a purse at a Pursenalities Auction
2020-2021: Fundraising During The Pandemic
The Pandemic has affected women and girls in particular, as it is known, and as stated by Iesha D. Brown, SIA Senior Director, women will be hit harder by an economic fallout because they work disproportionately in insecure labor and being quarantined can prevent them from meeting their families' basic needs; and during crises, community services are overstretched, services or women and girls suffer.
For these reasons, our participation in the community effort is more crucial and expected than ever, and it's imperative that we continue serving the women and girls who need them. To that purpose, we wish to maintain and hopefully increase our community contribution.
Unfortunately, we have had to cancel two major yearly fundraising events, our Toonie Auction of April, as well as our Library Book sale in collaboration with the Hamilton Public Library.
Since September 2020, five Autumn raffles have taken place. Items of value were won and we collected over $4000.
In 2019, this popular event attracted about eighty participants who used their toonies to have a chance to win one of 35 donated beautiful gifts which were displayed and auctioned in the heritage Ancaster Old Town Hall. A light lunch was served, and everyone enjoyed the lively event.
Doreen displayed her rich selection of costume jewelry and donated the proceeds to our club.
Annual Hamilton Public Library Spring & Fall Book Sale
Pat, Helen, Fran and Marion volunteering at the Annual Book Sale
The Annual Book Sale in collaboration with the Hamilton Public Library was the major fundraising event of the year for the Soroptimist International Hamilton-Burlington club. It was also our longest-running fundraiser, which began in 1980.
Famous Female Pursenalities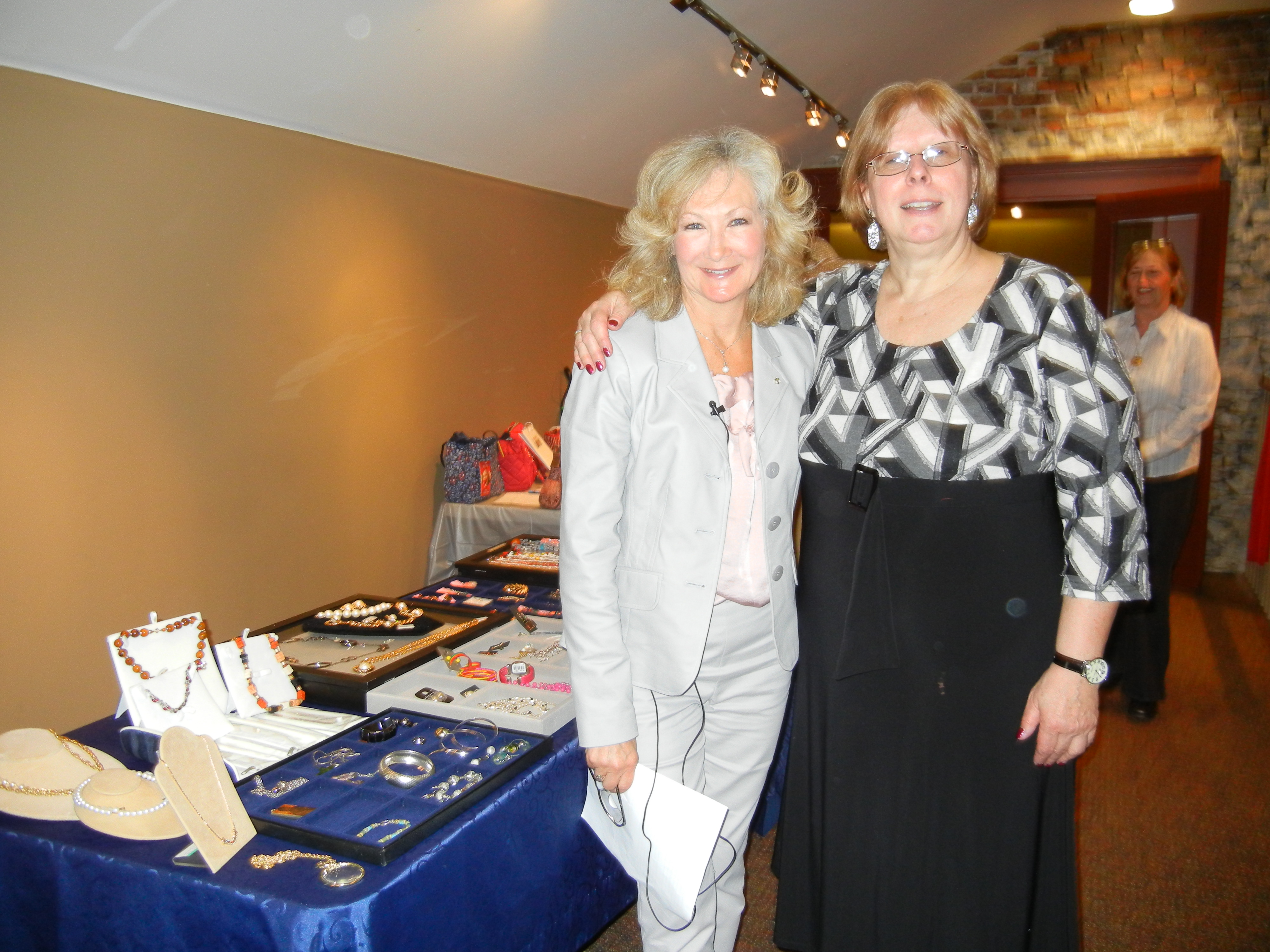 Famous Female Pursenalities – Connie and Nancy
This event was a live Purse Auction held annually in the spring, hosted by Soroptimist International Hamilton-Burlington and mcied by a local media celebrity. Soroptimist members dressed as famous female personalities and modelled purses. All enjoyed a fun social afternoon with friends, in beautiful surroundings, such as the Dundurn Castle Coach House. 2012 was our first purse auction, featuring Connie Smith. We hope we can resume it.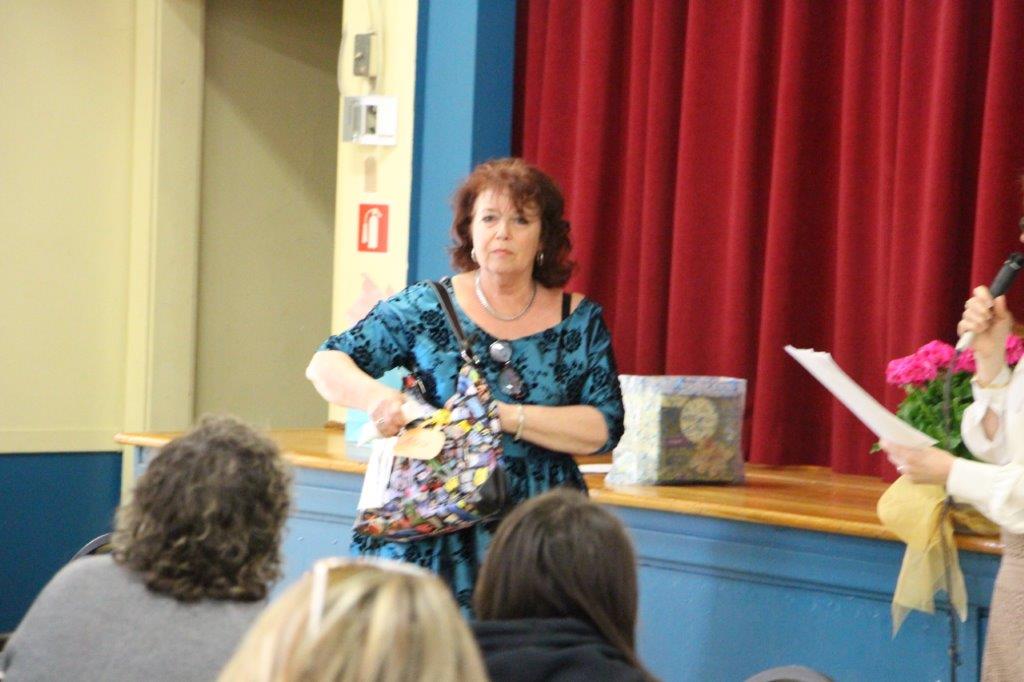 Deborah Polkinghorne showcases one of the purses
Linda Rourke from Cable 14 mcies the 2019 event
SOROPTIMIST INTERNATIONAL OF HAMILTON-BURLINGTON
S. I. Hamilton-Burlington
P.O. Box 89013 
Westdale Shopper's Drug Mart
991 King St W
Hamilton, ON L8S 1K9
Email: sihamilton.burlington@soroptimist.net