Soroptimist International Of Hamilton-Burlington
Awards
"Improving The Lives Of Women And Girls In Local Communities And Throughout The World."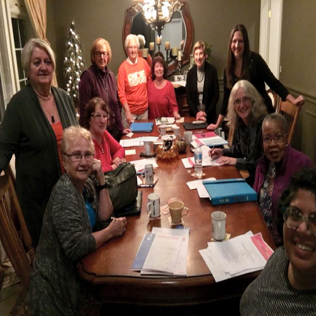 A meeting: volunteer work and friendship
The Soroptimist Core Service is "to assist marginalized women and girls, empowering them through education to have economically better lives and a better sense of identity".
Recipients of Soroptimist International Hamilton-Burlington awards are recognized during our April Award Ceremony, which is open to the public.
The following awards are the means through which we fulfill our above mandate: every year, we offer 5 awards to young women through our signature program, Live Your Dream. We also make financial contributions to the programs we sponsor, such as Young Women Empowered, YWCA Carole Anne's Place, CityKidz, The Hamilton Public Library Summer Reading Program, and to our International Program: The Kenya West Mother and Child Health Project.
Notes from the 2019 SI Hamilton-Burlington Award Ceremony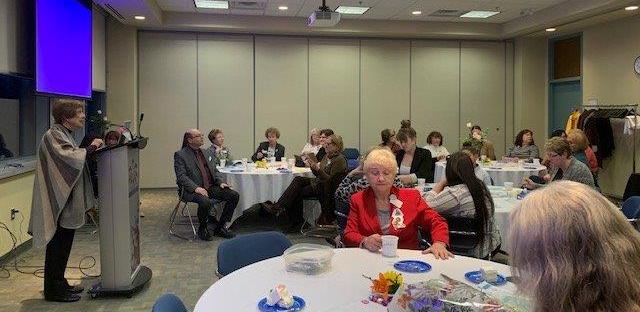 Our 2019 Award Ceremony. Pat McNeice, one of the SI presenters.
Guests at the 2019 Award Ceremony
Grace Diffey, Vice-President, Community Relations, the Hamilton Community Foundation, speaks at our 2019 Award Ceremony.
President Danielle McKirgan gave an outline of the LYD program, then invited Grace Diffey from the Hamilton Community Foundation to come up and speak. Grace gave background on Edith H. Turner, explained how the Edith H. Turner Foundation was established in 1974, and how support for capital projects in the Hamilton community was unique and very important to the city.
Our top award winner of 2020: Alannah MacDonald shares her dream: My big dream was going to college or university. Sometimes coming up with new dreams is hard. They come in the form of feeling a duty of care to help the women who don't have dreams yet. Or who's biggest dreams are to be clean. Or sober. Or safe. Or have a choice. Audre Lorde said we are not free until all of us are free. I feel an inability to rest when I know there is a woman who feels scared. Or alone. Or not understood. My dream is to help a woman who is sitting alone right now wondering if she will ever feel worthy of love. I want her to know that the greatest gift she can give herself is to honour herself by being who she authentically is. I feel it is a gift I can give someone because it was gifted to me. By women. By friends. By mentors. By strangers. By good men….My dream is that one day I will be able to pay forward all the wisdom and beauty and gifts that were graciously bestowed on me.
"I accepted an early offer for the social worker program for September. I'm really excited thank you so much again". Congratulations Alannah!
The Awards Ceremony, February 10 2021, on Zoom.
Recipients from our Live Your Dream signature award.
Five deserving young women have received an award: Alannah Mcdonald, Dariana Araque,Natascha Ibowski, Patricia O'Brien, Roxsanne Leigh.
SOROPTIMIST INTERNATIONAL OF HAMILTON-BURLINGTON
S. I. Hamilton-Burlington
P.O. Box 89013 
Westdale Shopper's Drug Mart
991 King St W
Hamilton, ON L8S 1K9
Email: sihamilton.burlington@soroptimist.net